I just found a way to express my happiness with y'all!
I'm doing a Giveaway!
Courtesy of the Hachette Book Group, open to residents of
U.S. and Canada only
please and no P.O. boxes, ends Thursday, July 9th.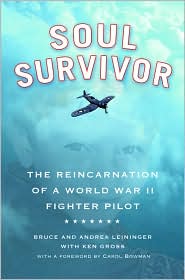 Soul Survivor by Andrea and Bruce Leininger, with Ken Gross.
Book Information:
This is the story of James Leininger, who-- a little more than two weeks after his second birthday-- began having blood-curdling nightmares that just would not stop. When James began screaming out recurring phrases like, "Plane on fire! Little man can't get out!" the Leiningers finally admitted that they truly had to take notice.
When details of planes and war tragedies no two-year-old boy could know continued-- even in stark daylight-- Bruce and Andrea Leininger began to realize that this was an incredible situation. SOUL SURVIVOR is the story of how the Leiningers pieced together what their son was communicating and eventually discovered that he was reliving the past life of World War II fighter pilot James Huston. As Bruce Leininger struggled to understand what was happening to his son, he also uncovered details of James Huston's life-- and death-- as a pilot that will fascinate military buffs everywhere.
In SOUL SURVIVOR, readers are taken for a gripping ride as the Leiningers' belief system is shaken to the core, and both of these families come to know a little boy who, against all odds and even in the face of true skeptics, harbors the soul of this man who died long ago.


This is a story about reincarnation, something which I truly believe in.

And I'm giving it away to five lucky people!
All you have to do to win this is
leave a comment with your e-mail address in it
. If you don't leave your e-mail address, you will not be entered in this giveaway.


Extra entries are as follows:

+2 Existing Followers/Subscribers (tell me!).
+1 New Followers/Subscribers (tell me!).
+3 Link to this giveaway (blog post/sidebar, and leave link for me).
+1 Tweet this contest (make sure you put @EllaPress in the tweet somewhere, and tell me in your comment).
+1 New or Existing Twitter followers (tell me and leave your username in the comment).

I'll ramdomly select a winner on July 9th, and blog the result on the 10th.
Good luck!


-organize the giveaway, done! (Bloggiesta goal achieved!)-


xo,