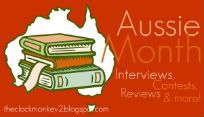 I'm really excited to be posting this,
I didn't want to until I was sure I had enough authors/bloggers on board.
But, here I am now, and I couldn't be happier!
College is just around the corner for me (school year starts in Feb/March for some, and ends in Dec, unlike in the North, but like in the place I'm featuring next month!), and this looks like a promising month for me.
Now, Aussie Month will officially kick off on Feb 1st, but I'm just so happy, I had to let you guys know in advance!
On Feb 1st, I'll be posting an Introductory Post about how this all started, and what's going to be happening around here for the month of February. How does that sound?
We'll be having:
Interviews,
Guest Posts,
Reviews,
Contests,
and more!
So, if you're an

Aussie Blogger or Author

, if you have a

review

for an Aussie book
you'd like to share
, or anything related to Australia (doesn't have to be book-related),
leave a comment and we'll get in touch!
If any Aussie Author reads this, and

would like to be featured/donate a book for a giveaway, email me.

My email address is on the right sidebar.