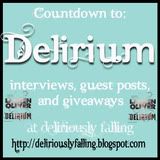 For those of you who don't know, I'm a
huge
fan of Miss Lauren Oliver and her books. I was lucky enough to be able to read an ARC of
Delirium
thanks to
NetGalley
.
Last November, I founded Deliriously Falling, and now, to celebrate the release of Delirium, Reg, Lori and I are having a Countdown, full of interviews, giveaways and guest posts!
Now you have the chance to ask Lauren whatever you want! And she might answer your question, in video!
Leave your question in a comment, and check on DF to find out if your question was chosen!