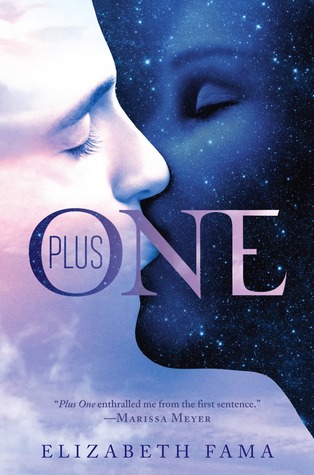 Release Date:
April 8th
, 2014
Age Group:
Young Adult
Publisher:
Farrar, Straus and Giroux
Source:
Publisher through NetGalley
Overall:
5 Monkeys
Interest:
Sci-Fi
Categories:
Sci-Fi, Romance
Read on December 2013
Summary:
Divided by day and night and on the run from authorities, star-crossed young lovers unearth a sinister conspiracy in this compelling romantic thriller.


Seventeen-year-old Soleil Le Coeur is a Smudge—a night dweller prohibited by law from going out during the day. When she fakes an injury in order to get access to and kidnap her newborn niece—a day dweller, or Ray—she sets in motion a fast-paced adventure that will bring her into conflict with the powerful lawmakers who order her world, and draw her together with the boy she was destined to fall in love with, but who is also a Ray.
Set in a vivid alternate reality and peopled with complex, deeply human characters on both sides of the day-night divide, Plus One is a brilliantly imagined drama of individual liberty and civil rights, and a fast-paced romantic adventure story.
My Opinion:
What started as a book I thought would go one way ended up being something entirely different, filled with action round every corner and tons of romance!
What a fantastic way to use a historical fact, as it was using the Spanish flu pandemic of 1918, and turn it into a What If scenario.
What if we had really been forced to divide our days and separate our population into Day and Night?
Elizabeth tells a magnificent tale of lies and love through the eyes of seventeen-year-old Sol (short for Soleil), a Night dweller, or as they call each other, a Smudge.
Sol's lived her life believing the death of her parents was a mere accident; her only relief was drawing on the desk at school with a partner she never knew, him being a Day student, a Ray.
In their drawings and writings they told each other everything, becoming best friends across a bridge that seemed unsurmountable.
Each chapter begins with the name of that particular day of the week, and the specific time of day. What seems to be a random naming system (to me at first!), turns out to be significantly important in the layout of the book: being a Smudge, Sol's bound by the Night schedule and she can only be outside after dark and before sunrise.
The book opens with a "Wednesday, 4:30 a.m.", a pretty crazy hour to be up and working. But for her, it's the end of her day, moments away from the rise of the sun and the beginning of the Ray day.
I say that I was a little confused by this system because entwined with these chapters were others titled, "Little Doe" and things as meaningful as that. Those chapters offered a glimpse into Sol's previous life, and through them we got to know her story with her desk partner all the better.
Sol's been abandoned by her brother, Ciel. Or at least, it's how she feels it. She's all but crossed him off her list, until, on her grandfather's final moments -the only parent she's ever known-, he asks her a dying wish: to see Ciel's newborn daughter.
Sol's life changes dramatically thanks to that one final wish; she's ready to do everything to make it happen, even if it means throwing her own life to the drain.
It's in that situation that she finds herself in the middle of a wage between Rays and Smudges, criminal Noma (neither Day nor Night felons), her own brother Ciel and a very powerful Night Minister. What Sol thought was a "simple" baby-napping escalates into something much more significant.
It was one heck of a ride, and I loved every second of it! D'Arcy I loved more. He brought his own personal Sun into the story and I can't wait to read him more.