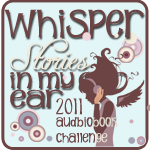 I LOVE listening to audiobooks: when I don't want to turn on the light to read, when I'm walking to uni, on the bus somewhere, anywhere... So, I when heard about this
international
challenge, I knew it was for me!
The goal is to listen to 12+ audiobooks. Here's my list (I reserve the right to change it as I please):
Paranormalcy, by Kiersten White. Narrated by Emily Eiden.
Incarceron, by Catherine Fisher. Narrated by Kim Mai Guest.
Saving Francesca, by Melina Marchetta. Narrated by ---.
The Piper's Son, by Melina Marchetta. Narrated by ---.
Linger, by Maggie Stiefvater. Narrated by Jenna Lamia, Dan Bittner, Pierce Cravens, Emma Galvin.
Infinite Days, by Rebecca Maizel. Narrated by Justine Eyre.
Personal Demons, by Lisa Desrochers. Narrated by Sara Barnett, Michael Nathanson.
The Last Song, by Nicholas Sparks. Narrated by Scott Sowers, Pepper Binkley.
Storm Glass, by Maria V. Snyder. Narrated by Jennifer Van Dyck.
The Dead of Night, by John Marsden. Narrated by Suzi Dougherty.
Blue Bloods, by Melissa de la Cruz. Narrated by Christina Moore.
The Lord of the Rings: The Fellowship of the Ring, by J. R. R. Tolkien. Narrated by Richard Inglis.
The Graveyard Book, by Neil Gaiman. Narrated by Neil Gaiman.
Crusade, by Nancy Holder and Debbie Viguié. Narrated by ---.
This challenge is hosted by
Bewitched Bookworms
.
*Edit: Thanks to Diana Peterfreund, for bringing to my attention the fact that her book is not an AB. I can use the time I'd have used looking for Rampant, for something else, like reading another book!